LIKE MAGNIFICAT ROSARIES ON FACEBOOK AND GET SPECIAL OFFERS
HOW TO ORDER

It's easy, if you would like to order one of the rosaries in my DESIGNER COLLECTION, simply email me at the address below and refer to the rosary by number or description. All Designer Rosaries, whether shown WIRE WRAPPED or BEADED ON FLEXWIRE, are available in WIRE WRAPPED construction ONLY in the IDENTICAL DESIGN in Sterling Silver. I NO LONGER MAKE BEADED ROSARIES. Bracelets are only made with beaded construction, in Sterling Silver or Silver Plate.

Many DESIGNER ROSARIES are also available in PEWTER with standard chain link construction. Pewter may not be shipped to addresses in California, Minnesota and Illinois. Pewter is not intended for children. BRONZE and SILVER PLATE are also available with wire wrapped construction. See the BRONZE-PEWTER-PLATED page.
Most parts and beads are in stock except as indicated on picture descriptions.

Please understand that ALL ROSARIES ARE MADE TO ORDER. Nothing is pre-made. My AVERAGE WAITING LIST IS ABOUT 6-8 WEEKS from the time I receive your payment until I can make and mail your rosary. There may be times that, due to high volume of orders, it may take longer.

To order or to request further information, please email:
Lottie@magnificatrosaries.com
If this link does not open your email program, please copy/paste or type it into your email. If you do not get a response within 24 hours, please email: lottied@innernet.net
NO SEO OR WEBSITE DESIGNERS PLEASE!
Magnificat Rosaries is located in State Line Pennsylvania. I do not list a mailing address because I do not want junk mail from all the people who spam both emails. I do not accept checks by mail and I do not repair rosaries that are not made by me. If you have a rosary that I made and need to send it to me for repairs or cleaning, please inquire.

Magnificat Rosaries does not sell or rent our email lists. We retain our valued customers email ONLY for the purpose of notifying you of upcoming sales and new products. You may opt out of receiving emails at any time.

WIRE WRAPPED LINKS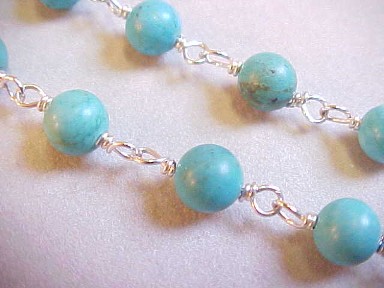 Wire wrap looks similar to regular chain rosaries, but instead of just hooking the beads together like a hook and eye and closing the hook, the wire crosses over itself and goes around itself several times at the base of the loop next to the bead. This construction cannot come unhooked. Wire wrapped rosaries cost more because they take 6 hours longer to make than regular chain link rosaries and use twice as much sterling siver wire.


GUARANTEE AND RETURNS POLICY

Each rosary, whether one shown in my DESIGNER COLLECTION or one designed especially for you, is hand made to order. Custom Orders are NOT returnable or exchangeable. Items made as shown incur a 20% restocking fee if returned within 15 days from receipt. I guarantee my rosaries to be as advertised and free of defect in workmanship. My rosaries are well made and long wearing. If your rosary ever breaks, I will fix it FREE, as long as you return the crucifix, center, and all the beads to me. If parts are missing, I may charge you to replace them.


SHIPPING FEES

Priority Insured Mail - flat rate $10 (within the continental United States only), which includes packaging, postage and insurance for each order. If you order more than one rosary at the same time, I will pay the additional shipping and insurance. Priority Mail is usually delivered in 2 - 5 business days.

International Insured Mail - $38 to anywhere outside of the Continental US. Delivery time depends on the country it is delivered to. Many countries detain packages in their customs inspection. NOTE: The cost of international insured mail has gone up to over $40 to most countries, but I am paying the difference.

Please indicate whether you need US domestic or International mail when you order. I use only the US Postal Service. I do not have accounts with other carriers.


METHOD OF PAYMENT

I bill by PayPal, a secure payment site. I will send an invoice to your email and you can follow the link to the secure payment site and pay it with either credit card or e-check. You do not have to open a PayPal account in order to pay it. However, if you have a PayPal account under a different email than the one you use to place your order, PLEASE PROVIDE YOUR PAYPAL EMAIL WHEN YOU ORDER. As PayPal is my only business account, I cannot accept checks or money orders and I am not set up to process credit cards myself. ALL PAYMENTS MUST GO THROUGH PAYPAL. Please do not send money ahead of receiving the invoice.

PACKAGING:

Each STERLING SILVER DESIGNER ROSARY comes with a black velvet pouch and hinged jewelry case.

BRONZE ROSARIES, PEWTER ROSARIES, SILVER PLATED ROSARIES, ROSARY BRACELETS and TRINITY BRACELETS come with a cardboard gift box.


SPECIAL ORDER

Please note that the special order heirloom parts, hand cast from vintage rosary components, are available as matched sets only. I also have many other beads that are not shown on my website and can special order many others. Please inquire about availability.

A SPECIAL ORDER FEE of $10 will be applied to cover shipping of parts or beads to me.

SPECIAL ORDERS and CUSTOM ORDERS are non-refundable once the parts are ordered and after work has begun. PLEASE ALLOW EXTRA TIME FOR SPECIAL ORDERS.


PREVIEW BY E-MAIL

Anything you want to see, please let me know. If I have or can find a picture of the beads you would like to see, I will email a picture to you.

RECOMMENDED LINKS:

If you are looking for less expensive hand made rosaries, I recommend:
OUR LADY OF GRACE ROSARIES: Canadian artisans handcrafting quality wood Crucifixes and sturdy handmade traditional-linked chain, wire-wrapped, cage-wrapped and knotted rosaries, chaplets and rosary bracelets. https://ourladyofgracerosaries.ca/


If you would like to learn to make rosaries, I recommend:

OUR LADY'S ROSARY MAKERS: Large selection of Rosary parts in Sterling Silver, Pewter, Gold Plate and Oxidized base Metal; Large selection of beads: All the findings to complete your rosary; Instructions to make Chain Link and Cord Rosaries. https://www.OLRM.org/
PLEASE CLICK BELOW TO GO ON TO THE DESIGNER ROSARIES COLLECTIONS