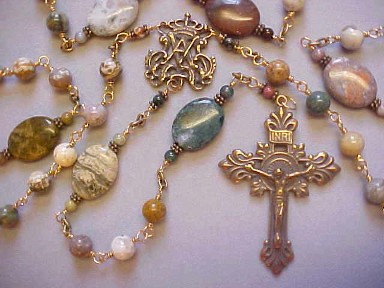 BRONZE ROSARIES

Bronze Rosaries can be made with the same styles of crucifixes and centers as the "hand cast special order heirloom" components in the Designer Collections: Ave Maria Crown/Baroque Crucifix (shown on the rosary above with Ocean Jasper), Raised Image of Mary/Scrolls & Flowers Crucifix (shown on #23), OL Guadalupe/Four Roses Crucifix (shown on #38), OL Lourdes/Lattice Crucifix (shown on #24), Radiant Mary/Open Weave Crucifix (shown on #14). Bronze rosaries are made with wire wrapped construction with bronze wire. Caps may be different styles than those on the Sterling silver rosaries and are antique brass or antique gold plated pewter. The Bronze wire wrapped Ocean Jasper rosary shown was made for a customer and cost $179 plus special order fee and shipping.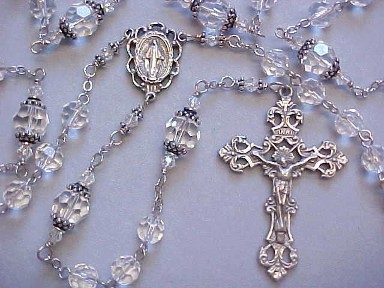 PEWTER ROSARIES

Pewter versions of most Designer Rosaries are available under $100. The rosary shown is the Pewter version of Designer Rosary #4, but with glass crystal instead of Rock Crystal. The price as shown is $53. Pewter rosaries may be made with most of the styles of crucifixes and centers listed as "satin finish and laser engraved" on the Designer Rosaries collections: Ribbon Edge/Deluxe Floral Crucifix (shown on #5), Fern Wreath/Deluxe Streamer Crucifix(shown on #1), Oval Mary/Deluxe Celtic Crucifix(shown on #6), Lace Edge/Deluxe Filigree Crucifix(shown on pewter rosary above), Floral Swag/French Weave Crucifix or Antique Style Crucifix(shown on # 9 or #21), Small Filigree set (shown on #16), Mary Shield/IHS Crucifix shown on #12. Pewter components are satin finished and engraved replicas of the sterling silver designer parts. Pewter Rosaries are available with Traditional chain link construction with Nickel Silver wire, which is rigid, not like flimsy store rosaries. Our Fathers and connectors are wire wrapped to secure the multiple parts together. Some of the bead caps and beads are different from the sterling silver designer rosaries. Pewter is not recommended for children as it may contain lead. Pewter rosaries cannot be shipped to addresses in California, Minnesota or Illinois. For an alternative to Pewter, see Silver Plated selection below:


SILVER PLATED ROSARIES

Silver plated rosaries are available with the parts shown above (NOTE: Parts are shown smaller than actual size). Top Left to bottom right: 1" Praying Hands or Lace Edge MM with 2 1/4" Large Filigree crucifix, 7/8" Mary Queen of Heaven or Jesus bearing Cross with 2 1/4"Large flared crucifix, 3/4" Floral swag MM with 2" French weave crucifix, cut out 7/8" oval OL of Grace with 2 1/8" Fleur de Lis crucifix, 3/4" Sorrowful Mother with 2" IHS crucifix, 3/4" Square framed MM with 2" budded crucifix. These silver plated parts are satin finished and lazer engraved with a non tarnishing finish. They look similar to sterling and are long wearing, (not like the silver tone or oxidized parts on store rosaries that turn black). Silver plated rosaries are made wire wrapped with silver filled wire.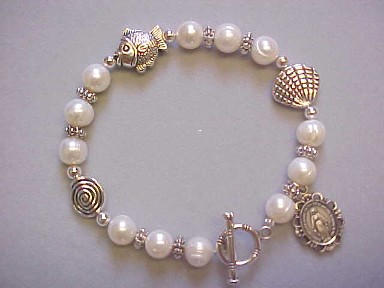 STELLA MARIS TRINITY BRACELET

8mm white potato shape pearls with silver plated/pewter components - fish and shell beads, round nautical design toggle and bar clasp and scalloped Miraculous medal. The groups of 3 pearls represent the Holy Trinity - 1 God in 3 persons. The two spacers between the pearls represent Christ in 2 natures - human and divine. The 3 fish and shell beads represent the Blessed Mother's special relationship to the Holy Trinity - she was the first human to know that God existed as three persons when the Angel Gabriel announced that God the Father wanted her to bear his Son and this would be accomplished by the Holy Spirit.

$42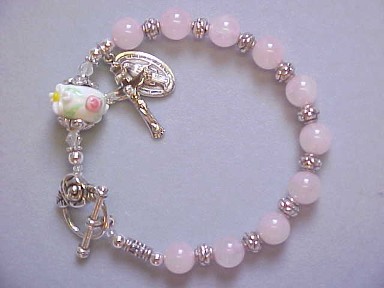 ROSES & DAISIES ROSE QUARTZ ROSARY BRACELET

12x8mm Roses & Daisies lampworked glass Our Father with 8mm Rose Quartz, Silver plated/Pewter components, Rose Toggle clasp, Crucifix and Miraculous Medal. Rosary bracelets are more than just religious jewelry, they can also be used to pray a decade of the rosary while stopped in traffic or waiting in line!

$42

I have different types of Lampwork Glass available to match most gemstones. If you would like a similar style rosary made in a different color.

PLEASE CLICK BELOW TO GO ON TO THE DESIGNER ROSARIES COLLECTION